superstar
Posts: 328
Hey Guys,
I just posted this over at TMP, but knowing what a bunch of cheapskates you (we) all are over here, I thought you might like to have a look. Without future ado....
As many of you know, One Monk recenlty made all it's paper miniatures free. I'm not much for 2d paper miniatures, but this 28mm, 3d tank cought my eye, and I decided to have a go at it. You can get it for yourself here:
http://onemonk.com/Terra-Force.html
The free download get's you 5 different files, each being a different color scheme. It prints out on 4-5 sheets, and the textures and details are well done.
As with most card models, taking a sharpie blackening the edge of every piece you cut out, and even blackening a bit of the back side (a 16th of an inch will do) of any piece that will be an edge will go a long way toward bringing the illusion of "not-paper" to this kit.
The turret can be glued down, but a bent paper clip can make for an easy rotating turret, and the turret is large enough that the gun barrel doesn't make it tip forward.
The kit consists of a turret, 4 track sections, a middle section, and a sheet that connects the middle and tracks together. Most of these sections are printed on all sides so you can modify the assembly. The thread sections in particular beg to be kitbashed for other models. Being a 40k guy, I reversed the treads and bumped the center section forward a bit to give it a bit of a Leman Russ vibe, and it worked out just fine.
A few minor issues:
1) Lines to be folded are marked with a dashed line, drawn right over the exterior surface! It's subtle enought that it won't bother some people, but I made a point of drawing my sharpie across all these edges once it was assembled. For a model with sharp edges dark colors and armor plates this is no problem, but I wouldn't want to see dashed flolding lines across the edges of a more delicate and lightly colored model.
2)There is a section marked "cut out". Whatever you do, don't cut it out! leaving it in will make the assembly much easier
3)when the tracks are assembled, there is a bit of overhang from the sidewalls. This is easily trimmed off, with no ill effects to the graphics, but it is worth noting.
4)Squaring off edges that are usually round is a paper model-givaway, so I would have preferred a round barrel. However, the squareed barrel looks good and is quite futuristic looking. I'll probably add a battlecannon-like barrel and a hull mounted heavy bolter anyway.
Even with the above issues, the kit went together easily with no major problems. Most of the joints held with a glue stick but a few places I used a bit of brush-on CA to get too joints that I couldn't quite reach the first time.
Here are some shots of the model.
Front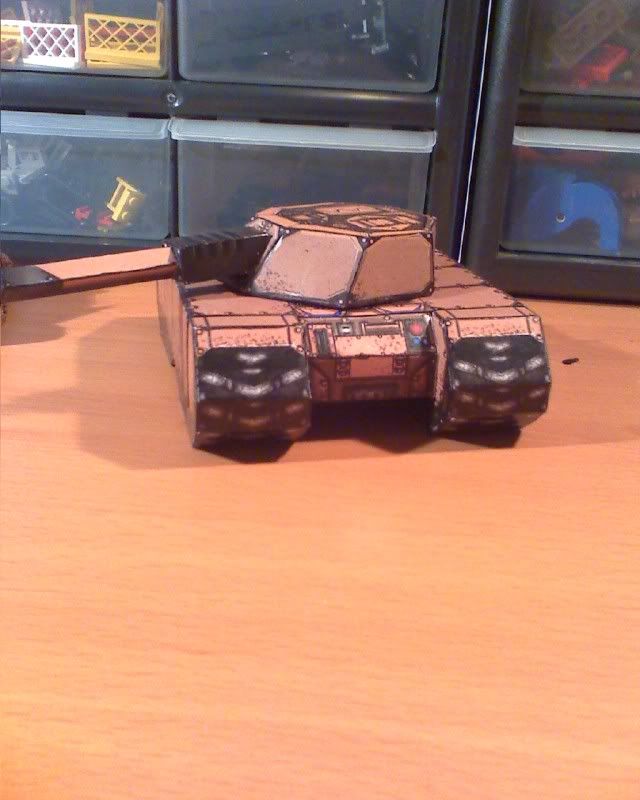 Side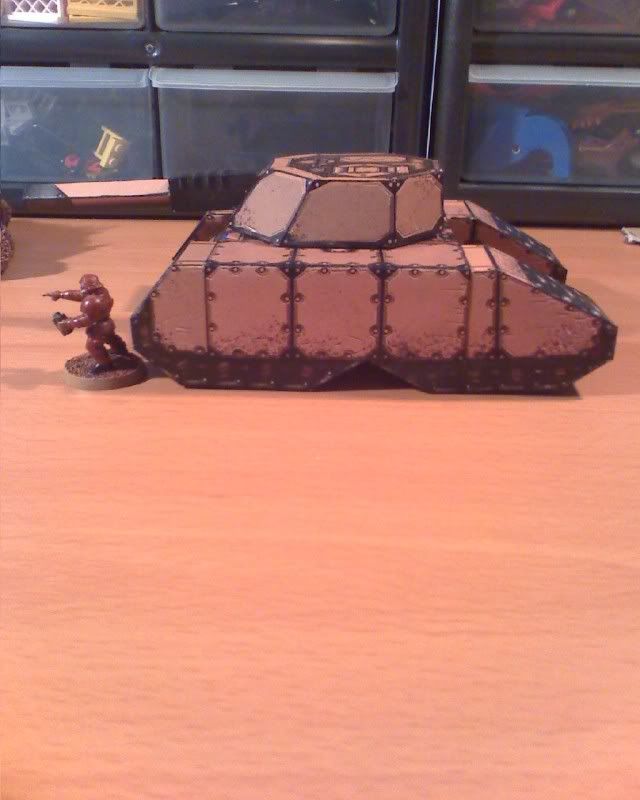 Rear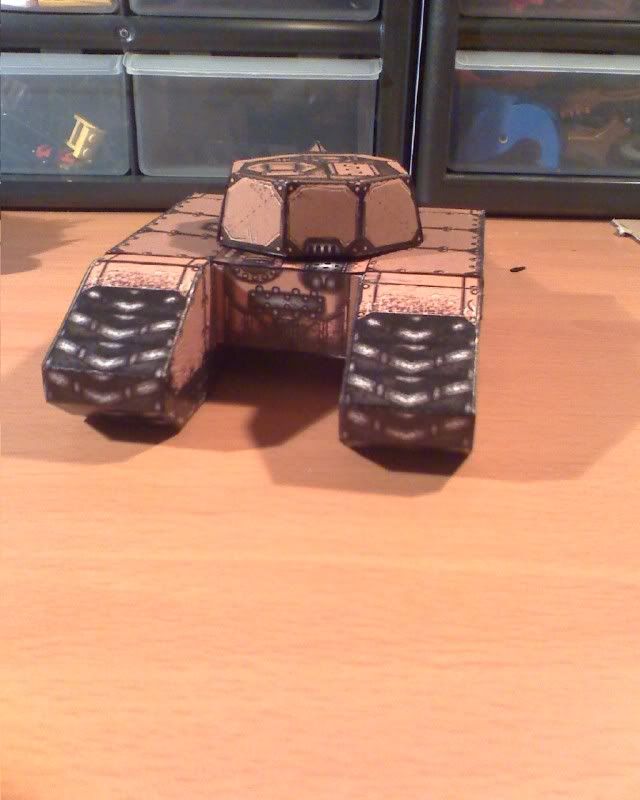 Here are comparison shots with a GW Leman Russ and a Cadian IG trooper. The Wolverine is a touch shorter, but a half inch longer and 3/4 inch wider than the Russ.
Front/angled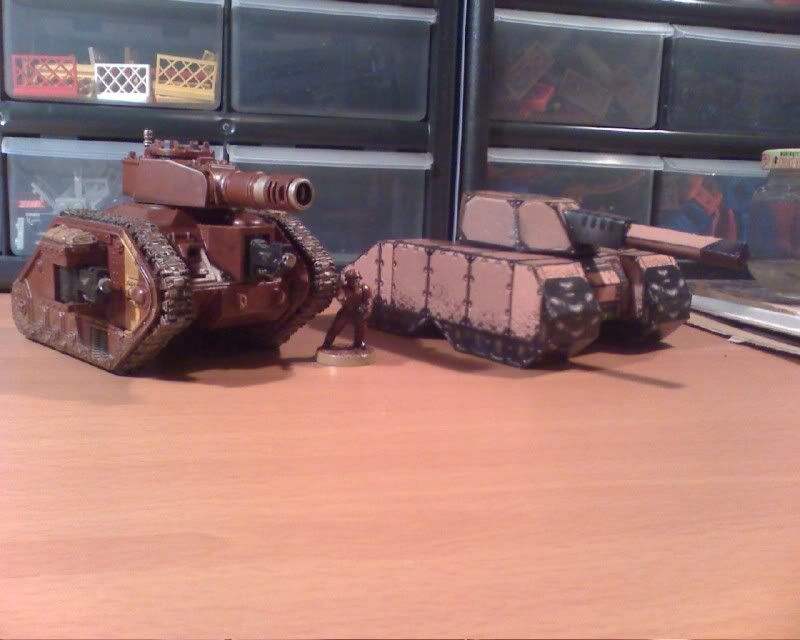 Side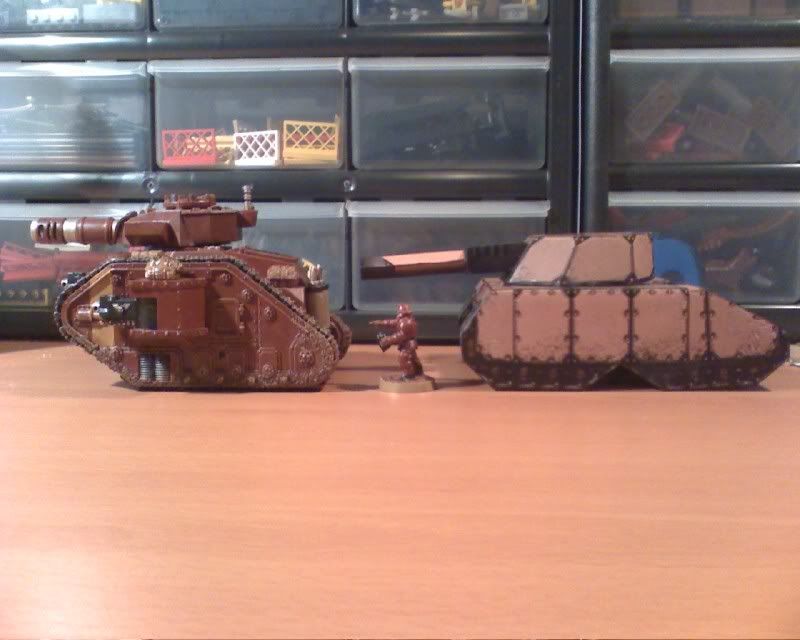 Some of the pics aren't perfect, but my camera was stolen, and I think they are great for cheapo phone pics.
All in all, I'm quite happy with this. It's a fairly simple kit that doesn't require any advanced papercraft. It's a fine kit for proxing any number of armored vehicles, but the end result is nice enough, that if you decide to run the wolverine and skip the "real" models, it can be gamed without shame.